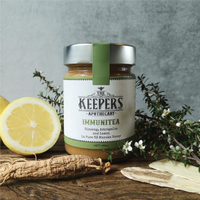 Introducing Immunitea
Welcoming our new blend Immunitea, combining our 400+ MGO Manuka Honey with NZ grown Ginseng, Astragalus and Lemon to create a delicious, soothing elixir.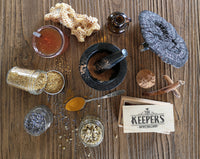 Honey with Superpowers
By bringing together Pure NZ Honey and powerful natural superfoods and superherbs, The Keepers Apothecary produces natural, versatile honey blends, supporting immunity, cognitive function, energy and more.
The Keepers Apothecary have taken inspiration from age old herb and honey remedies to produce a collection of unique honey blends, using the best natural ingredients.

Bringing together honey, an ancient food and traditional medicine that has been used for over 8000 years, with Ayurvedic remedies and traditional medicines from around the world to create versatile elixirs for everyday use.
Shop Now
True Infusion

When we say infused we mean it - lavender and chamomile flowers soaking in honey
Changing the way you use honey

Our super blends make amazing teas and lattes
True Infusion
When we say infused we mean it - lavender and chamomile flowers soaking in honey
Changing the way you use honey
Our super blends make amazing teas and lattes